Vanguard Electric Radiators
100% energy efficient aluminium radiator.
Vanguard electric radiators are lightweight, ultra modern looking radiators and a great addition to our electric heating range.
They are constructed from aluminium for rapid heat up and lightness.
They have a ceramic core to produce a very even heat transfer to the radiator surface area and great heat retention.
The Electrorad Vanguard range is a continental style aluminium electric radiator providing very modern looks. The radiators are 100% efficient at turning energy input into heat output.
The built in digital electronic room thermostat will maintain your room temperature very accurately and also includes a timing system to allow each radiator to be on only when required.
** Energy Saving Features **
Ceramic core
Open window sensing – turns the element off if a window is               opened
Adaptive start function – Learns when to turn on,saving energy        and increase comfort
9 pre-set programmes plus user bespoke programme options
Energy consumption monitor – daily, weekly, monthly, yearly               stats
PID Thermostat control – silent and accurate control
Thermostat accuracy +/- 0.1 Deg C
The programmer is conveniently located at the top of the radiator so as to not spoil the good looks and so you can comfortably program the radiator without having to bend down.
There are 9 factory pre-set programs to suit many lifestyles and a user definable program option.
The thermostat has proportional integral technology and triac switching for silent operation and extremely accurate room temperature control.
The programmer has a back light for easy reading of the screen and a locking function for when you don't want the settings to be tampered with. The design of the radiator means it is very efficient at warming the room and the people in the room.
The heat transferred to the surface area creates radiant heat which directly heats people and objects, like the rays of the sun.
The colder air from the floor is drawn up and channelled through the fins of the radiator creating convection heat to heat the air in the room. The element is sealed away meaning there are no burning dust smells and no brown marks will appear on the walls.
Vanguard aluminium electric radiator
Prices and Specifications:
750 watts 575mm (H) x 415mm (L) x 95mm (D)
1000 watts 575mm (H) x 575mm (L) x 95mm (D)
1500 watts 575mm (H) x 735mm (L) x 95mm (D)
2000 watts 575mm (H) x 895mm (L) x 95mm (D)
Please call to order on: 0113 2746799 or click ' buy now ' below
The most advanced aluminium electric radiator available!
The Vanguard+ aluminium electric radiator has the most advanced electronic controls ever seen on an electric radiator.
It was one of the worlds first electric radiators compatible with Amazon Alexa, allowing Voice control
These controls make the Vanguard+ highly energy efficient!
Vanguard+ is fully compliant with ERP Ecodesign Lot 20 regulations and achieves the highest possible score for seasonal efficiency – 40%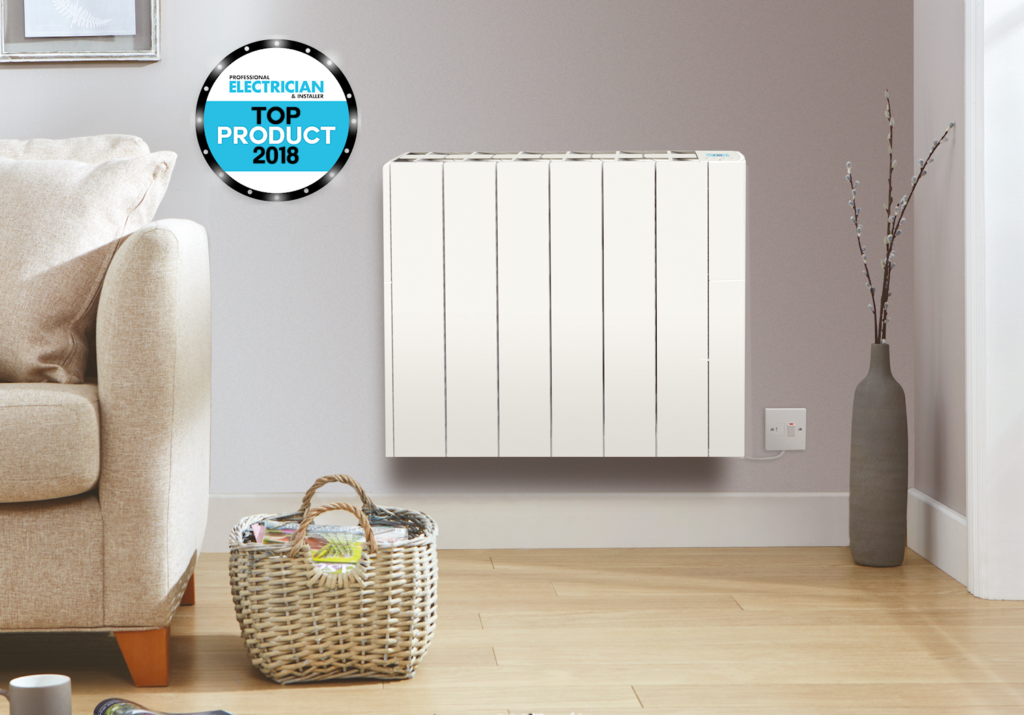 Geolocation Function
Vanguard+ Features and Functions.

WiFi smart control via App from anywhere in the world.
Capable of 'hopping' signals to extend signal range.
Voice control via Amazon Alexa.
Geolocation – Set a distance going to/from home for the heating to turn on or off.
Open window sensing – turns element off when a window is opened to help save energy.
Other Features :
  Ceramic core with high thermal inertia, able to continue emitting heat for a long period of time
  Even temperature distribution over the surface.
  Top quality injected aluminium body means a light and strong product.
  Durable powder coat finish RAL 9010.
  Silent operation: digital regulation with Triac control.
Digital Programmable Control placed on the top  with the following functions:
  Proportional Regulating System (PID) for very accurate temperature control
  Intelligent Control System (ITCS), the radiator learns the heat up characteristics of the property and turns on at the right time to give the comfort required.
  Programmable via radiator (weekly programming, 9 preset programs and 4 customs).
  Energy consumption meter (last 24h, 7 days, 30 days).
  Open Window function.
  Comfort, economy and frost protection modes.
  Easy use function.
  Reduced surface temperature function.
  LCD screen.
  Security Thermal Control.
  1.2m cable with UK Plug.
  Power Switch on/off.
FREE to download and use App control
Check and control each room independently
Check and amend room temperatures
Amend weekly time programming and programmed temperatures